In
February
of this year, I worked with Allen and Natalie for a winter wonderland wedding. Little did we know that it would be a winter wonderland indeed. If you will recall, that week is when one of the biggest ice storms to hit Texas,
Louisiana
and the surrounding states in years decided to blow in. Their family and guests
persevered
, one even getting in the car and driving from California. By the Saturday night of the wedding the weather had cleared and it was a perfect crisp winter night. Not that we were too worried - the enormous tent was heated and perfectly cozy.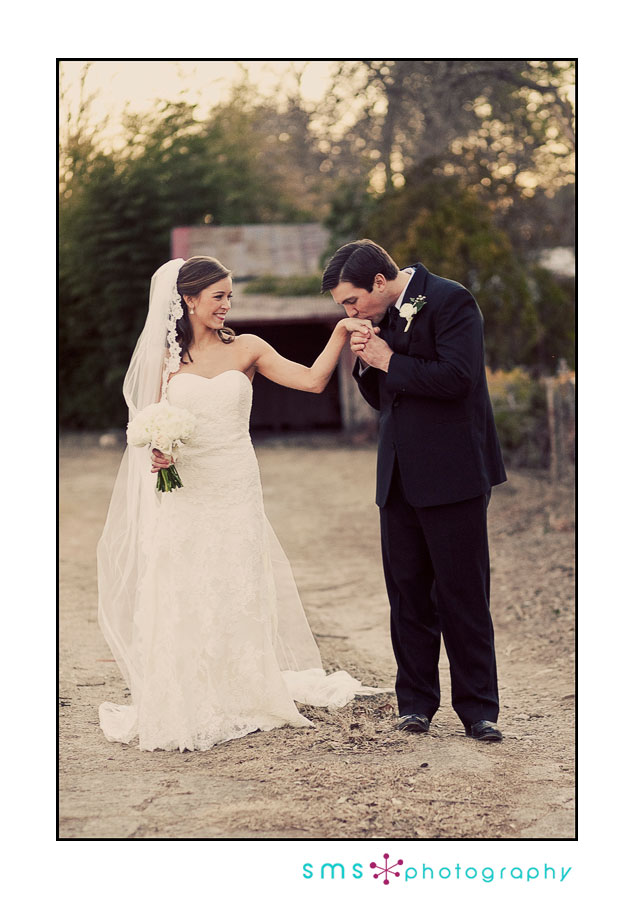 Over that weekend, I also had pleasure of working with Allen's mother, Teresa on the rehearsal dinner. She is one of the sweetest, most delightful women I have ever worked with and Natalie may possibly have the best mother-in-law in the whole world. The fun part of the rehearsal was that both of Allen's parents wanted it to be wonderful and agreed on a location before turning it over to me.
Yipeee
!
August E's
provided the perfect sleek backdrop and amazing food. 72" round tables were brought in and draped with gun-metal grey twist linens and surrounded by white leather chairs. Working with Michelle over at
Sprout
,
we created simple, all white centerpieces set off by 36" tall silver candelabras. In a nod to Allen's

outdoorsmanship

, we used white antlers to surround vases of white

amaryllis

. Natalie, self described as "the pinkest person ever" got her dash of pink with dusty pink color

votive

and pink stitching on the place cards.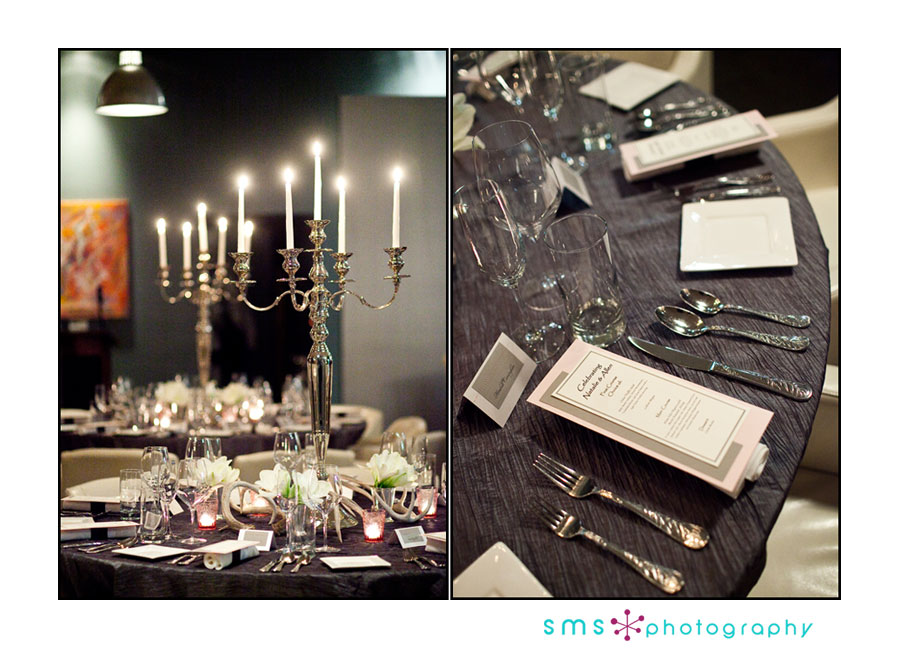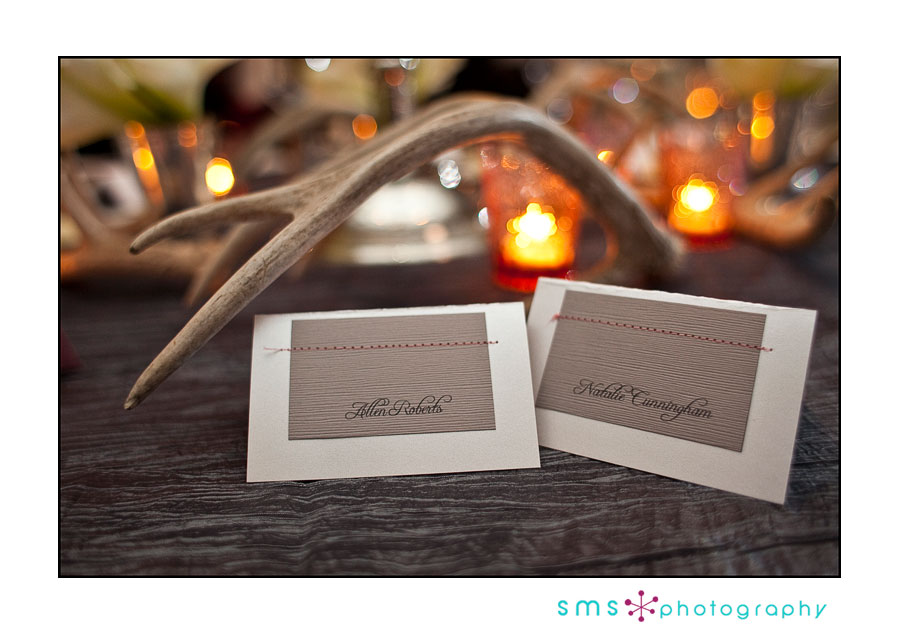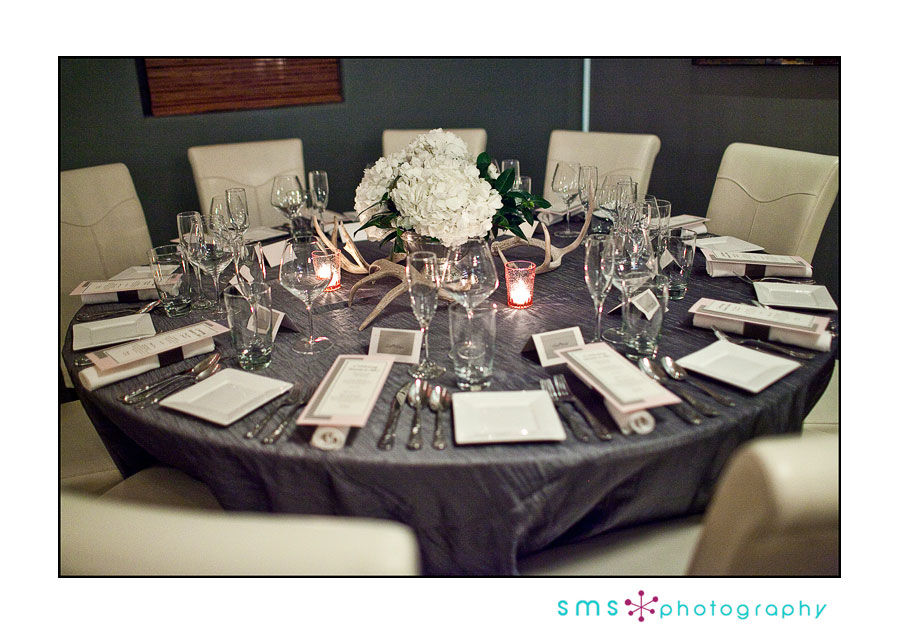 At the reception Natalie chose to warm up the evening with spectacular amber lighting, gold table cloths and candles everywhere. Once again, Sprout did the flowers and wrapped each of the candles with a gold patterned paper, wax stamped with the bride and grooms initial "R". White flowers were in various mercury glass containers and completed the elegant look.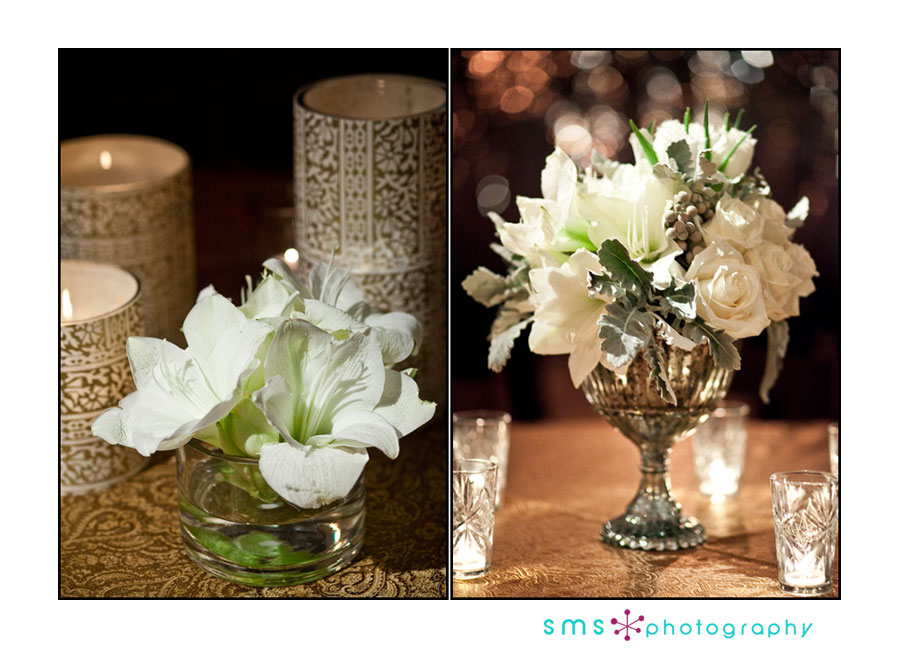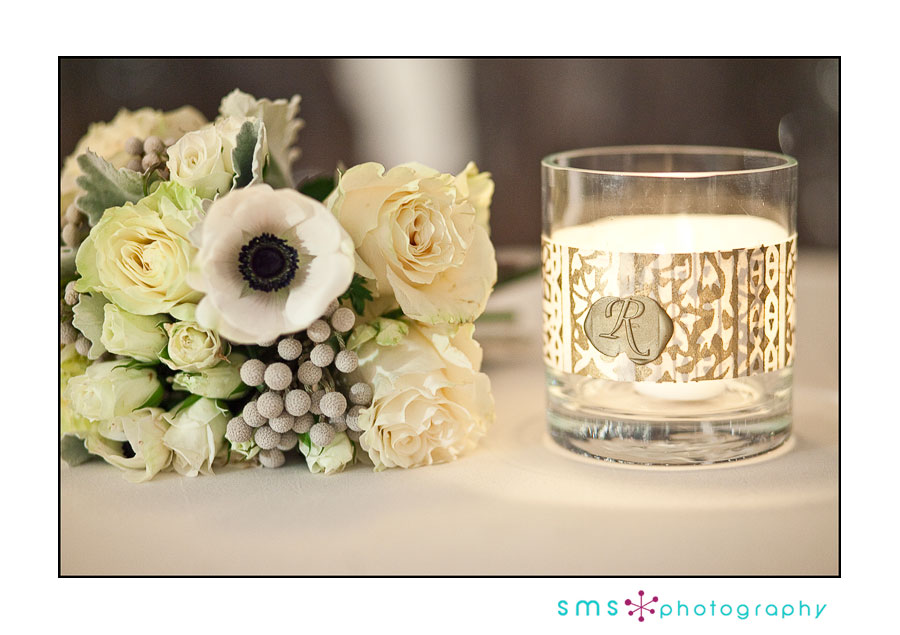 For more images of this beautiful winter wedding, visit the

SMS blog

.
Stacy and Stacy from

SMS

photography did a fabulous job capturing the entire event, as usual. I cannot express how much I enjoy working with these two. They are a coordinators dream because a detail or decor shot is never missed. Not to mention how lovely the photographs of the bride and groom always turn out. They are continually some of my favorite images. Thank you ladies!